SEO
Digital Marketing
Conversion rate optimisation
What Is a Good Bounce Rate, and How Can You Improve Yours?
Andrew Raso
22 November 2021
23min read
What's one of the most important website metrics that affect the performance of your website?
It's not your traffic or even your conversion rate.
It's your bounce rate.
A high bounce rate indicates that the people that you're driving to your website aren't finding what they're looking for. It's a sign that your website isn't doing its job: getting people to discover your products or services and bring in more business. And on top of that, a high bounce rate can hurt your search engine rankings and leave you lagging behind the competition in Google Search.
Long story short, your average bounce rate matters. So how do you know if your bounce rate stacks up?
That's what we're going to look at here.
In this post, we'll look at what makes a good bounce rate, common bounce rate issues and how to address them, and 8 ways to improve your bounce rate.
Let's dive in.
What is a bounce rate?
Bounce rate is the percentage of single-page sessions on a website as a proportion of the total sessions on your page. According to Google:
"In Analytics, a bounce is calculated specifically as a session that triggers only a single request to the Analytics server, such as when a user opens a single page on your site and then exits without triggering any other requests to the Analytics server during that session."
In non-technical terms, these are people who arrive on your website, only to leave it without taking any further action, such as clicking a link to another page or filling out a form.
A visitor can bounce from your site in a number of ways:
They can click a link from your page onto a different website, such as a partner website

They can click the 'back' button to go back to search results or the website that referred them there

They can close the window or the tab

They can navigate to another website by typing a new URL

They can have their session timeout, which means they've been idle for a fixed interval of time.
Why does bounce rate matter for SEO?
There are a lot of factors that go into determining where a website lands in Google search results — over 200 of them, in fact. And while Google itself hasn't explicitly said that a website's average bounce rate directly affects its SEO, a good chunk of evidence supports that exact claim.
A Backlinko study found that websites with good user experience signals, such as a low bounce rate or high time on site, tended to rank higher on Google than those with poor user experience signals.
Image credit: Backlinko
SEMRush saw a similar correlation between bounce rate and rankings in its study. After looking at 600,000+ keywords, it ranked bounce rates as the fourth most influential factor in determining where a website lands in search results — surpassing other factors like referring domains and backlinks.
Image credit: SEMRush
Even if it's not directly correlated, bounce rate is still important for a number of reasons:
It's linked with other factors, such as time on site and pages per session. A user who bounces after a single-page session won't spend a long time on your website or browse multiple pages — which can indirectly affect your rankings in search engine results.

These visitors obviously didn't convert or move further down in your customer funnel. In other words, a high bounce rate means your landing page is causing you to lose out on potential leads and sales.

It's a good indicator of the relevance and quality of your landing page. A high bounce rate suggests that the visitors you're bringing to your website either aren't engaged in your site's content or you're not bringing in high-value traffic. Worse yet, a high bounce rate may signal issues with your layout or overall user experience.
Factors that determine a 'good' bounce rate
We've covered what bounce rate is and why it's important. Now it's time to see how your site's bounce rate stacks up.
Figuring out whether you have a 'good' or 'bad' bounce rate isn't as simple as aiming for a certain percentage. A Rocketfuel study showed that most websites have bounce rates ranging from as low as 26% to as high as 70%. Other figures put the average website bounce rate at 40.5%.
If you feel like your bounce rate is high, don't panic just yet - it could be perfectly normal. There are plenty of other factors that determine whether a bounce rate is 'good', including industry, website traffic, landing pages, share of mobile users and more.
Your industry and type of website
"Normal" bounce rates vary wildly depending on the type of website a visitor is landing on. Custom Media Labs found that the average bounce rates were lowest for the eCommerce site and retail site categories, while dictionaries, blogs and portals had the highest bounce rates.
Image credit: Backlinko
Similarly, Brafton found that B2B businesses had a higher average bounce rate than B2C businesses:
These figures are good to keep in mind when looking at your bounce rate. Even if your exit rate is higher than the overall average, it might be perfectly in line with — or on the lower end of — the average bounce rate for your industry.
Traffic sources
Unsurprisingly, the source of your traffic is another big factor that affects your bounce rate. A study by ConversionXL found that referral traffic and email traffic had the lowest bounce rates. On the flipside, display or social media traffic had the highest site-wide bounce rate.
The type of visitors
Along with where your traffic comes from, WHO you bring to your page also makes a difference in your website's bounce rate.
Let's say you bring a visitor to your website who's never heard of your brand before. These customers are probably in information-gathering mode — making them more likely to leave than those who have gone onto your product pages with an intent to buy.
Your entrance page
Where are your visitors landing? Is it a single page site? Are they starting their journey with you on one of your blog pages, or are they landing straight on your homepage?
Single site pages and blog posts have a higher bounce rate than homepages, simply because users may land on the page, read it, then leave. On the other hand, home pages typically have a lower bounce rate because users are clicking around to learn more about the brand, products or services.
Your website design, layout and user experience
It's a no brainer: a well-designed website that's easy to navigate and has a fast load time should have a better website bounce rate than one that's sluggish and filled with pop-ups. When a visitor's first experience with your page is frustrating and lacklustre, they'll quickly leave (and go straight onto your competitor's).
Not convinced? According to Think with Google, more than half of all mobile traffic will leave a website if it doesn't load in a few seconds on mobile devices (3 seconds or less, to be precise).
Copywriting and website clarity
Customers are busy, and they have a short attention span. If it isn't immediately obvious what your business does and what your website is about, most people won't bother sticking around to find out. That's why every landing page on your website should have a clear, concise message with easy-to-read copy and a clear call-to-action — otherwise, you'll quickly see your click-through rate and time on site plummet.
How to understand bounce rate in Google Analytics
Google Analytics is your go-to source of information for all things bounce rate. If you're just getting started, the best figure to look at is your overall bounce rate, which can be found on the Audience Overview tab:
This will give you a good indication of how your website is performing compared to your industry or compared to the global averages listed above.
But did you know that you can dig even deeper?
By segmenting your bounce rate based on other metrics, such as demographics, devices, pages and traffic sources, you'll be able to get a clear idea of exactly what's affecting your bounce rate and how to fix it.
Age and Gender
Is your website resonating with your target audience or falling short? One way to find out is to look at your bounce rate by age. Simply navigate to Audience > Demographics > Age and Google Analytics will give you a breakdown of single interaction visits by different age brackets:
You can also toggle the view to sort by the age range with the highest bounce rate or the lowest. In this example, we can see that visitors aged 25 - 34 have the lowest bounce rate:
Google Analytics also allows you to filter site metrics based on gender. Simply stay in the Audience > Demographics tab and click on Gender:
Here, we can see that males tend to have a slightly higher bounce rate than females, but not by much. However, if you're selling products aimed at females and you have a high bounce rate amongst this group, that might be a sign that something's not working the way it should be.
Affinity categories
Affinity categories are groups of users with shared interests or hobbies. Understanding your bounce rate amongst these different clusters can be particularly helpful when you're engaging in top-of-funnel awareness campaigns and want to see if your content is resonating with people who are interested in your products or services.
You can find this data under Audiences > Interests > Affinity Categories:
Best of all, Google Analytics uses the same affinity categories as Google Ads — so you can really drill down to see and improve your bounce rate for certain audiences that you're targeting with PPC campaigns.
Location
Location is a great way to check if your bounce rate varies for visitors in different locations. For example, you might find that you have a high bounce rate in one city or state compared to the rest, which means this audience is likely to be less engaged in your products or services.
Head to Audiences > Geo > Location to see a breakdown of bounce rate by country, city or even continent:
New visitors
New users will have a higher bounce rate than those who have previously visited your website. With Google Analytics, you can figure out precisely how much higher — then take action to close the gap and reduce your bounce rate.
Navigate to Audiences > Behaviour > New vs. Returning to see how the two compare:
Browser and device
Sometimes, the culprit for a high bounce rate could be that your website isn't performing as it should on a certain browser or on mobile screens. Segmenting bounce rate by browser and device is a good way to narrow in on where these problems are so you can pinpoint them and get to work fixing them ASAP.
Head to Audiences > Technology > Browser and OS to see how many visitors are using each platform:
Then go to Audiences > Mobile to drill down by different device types:
If you want to get REALLY granular with your mobile bounce rate, you can even segment by specific devices, such as the iPhone 13 or the Google Pixel 5:
Acquisition
In addition to segmenting your bounce rate by audiences, Google Analytics gives you the power to see bounce rates for different traffic sources. This is a gold mine of information because you'll be able to glean whether you're reaching the right target audience with the right message across all of your digital marketing campaigns.
To get this information, go to Acquisition > All Traffic > Source/Medium:
Take a look at the bounce rate for different sources over the same period to see if they deviate from the average. For example, in the example above, we can see that traffic coming through from paid ads has a far higher bounce rate than direct or affiliate traffic.
Use this information to tweak your campaign messaging and targeting, bring down your bounce rate, and increase conversions.
Landing pages
Content affects bounce rate and exit rate A LOT. As we touched on earlier, the page your visitors enter on has a big impact on whether they stay on or leave after a single session — so it only makes sense to make sure all your landing pages are performing as they should.
Navigate to Behaviour > Site Content > Landing Pages to segment bounce rate by page:
If you see one page has high bounce rates compared to the others or you notice a trend between different types of landing pages, it's worth digging into.
4 common reasons why your website might have a high bounce rate (and how to fix it)
Have a bounce rate problem? We explore 4 possible reasons why you may be seeing high bounce rates, as well as improvement strategies for these issues.
1. Poor content quality
People generally go onto a website to get more information or to solve a specific problem. If your content isn't meeting their needs or your copy isn't up to par, they'll likely leave the page that they came in from, rather than dig around further.
How to fix it: Focus on user intent. Why are people coming to your website? What stage of the customer journey are they at? Once you've got the answers to these questions, focus on developing well-crafted content that addresses these needs and invites further discovery of your brand, products and services.
2. A negative user experience
Whether it's slow page speed, endless pop-ups or an outdated design, a poor user experience can turn visitors away in just a few seconds. The same goes for confusing or hidden navigation options. If it's not easy and intuitive for users to browse your website, they'll click the "back" button and take their business elsewhere.
How to fix it: Pinpoint the issues first, then get to work solving them. You can do this by looking at Google Analytics and seeing if there are certain devices or browsers that have a higher bounce rate than others. Don't forget to also check out your site speed on Google's PageSpeed Insights and review mobile-friendliness using the Mobile-Friendly Test.
3. Referral or bot spam
If you've gone through your website with a fine-tooth comb and still can't find any issues, it's time to explore other causes. Referral or bot spam are pesky problems that plague all websites — and it could be the reason behind an artificially high or low bounce rate, as bots either have a bounce rate of 0% or 100%.
Google Analytics does a pretty good job of filtering out bot activity when measuring your page's bounce rate. However, every now and then, bots may slip through the cracks and skew your numbers. For example, in this one here, we can see that the first and second sources have disproportionately high sessions and a high bounce rate, which is skewing the site-wide bounce rate.
How to fix it: Make sure you're blocking spammy referral traffic in Google Analytics by following these instructions from Search Engine Journal. If you're still seeing sites that you suspect to be bots, you can also manually add these as a filter in Universal Analytics.
4. Technical errors
If you have stellar content, a fabulous UX, and you're targeting the right audience, then chances are your page's bounce rate might be caused by something completely different: a technical error. Whether it's your page returning a 404 error page or a loading error, these small oversights can snowball into big problems for your bounce rate.
How to fix it: View your entire site from your audience's most frequently used browsers and devices. This simple action might unearth technical issues that otherwise would have gone unnoticed.
How do I improve my bounce rate?
Leverage adjusted bounce rates
Google Analytics is filled with ways to customise your reporting and evaluate your website performance. One of these is adjusted bounce rates, which allow you to modify how Google records interactions (and, in turn, directly affects your bounce rate).
For example, you might want Google to tell you when a user's scroll depth hits a certain percentage on your page or when a user clicks on a specific element, such as a video.
The easiest way to do this is to modify this is to use Google Tag Manager to send events directly into your Google Analytics account. You can use this to adjust your bounce rate by all kinds of events, but here are the two we recommend getting started with:
Scroll percentage events that record an interaction after a certain scroll depth, such as 75%.

Timers that tell Google to consider a visitor to have interacted with your page after a certain length of time.
Adjusted bounce rates are a handy way to get a true idea of how your website is performing, based on the interactions that are most important to your business.
Embed YouTube videos
Adding videos to a product page can dramatically improve time on site and decrease bounce rate. Case in point: Wistia found that people spent an average of 2.6x more time on pages with video than those without.
Backlinko backs this up with data that shows pages with embedded videos have an 11% lower bounce rate:
Feature videos as often as it makes sense on your website. It might be a blog page with video content, a video with user reviews on your home page, or a video on a PPC landing page on your site.
Have clear navigation
The first step to making people stay on your page is to make it easy for them to get around. Your menu should be easy to find on both desktop and mobile devices and include clear options for visitors looking to obtain information.
The Iconic does a fantastic job of this on their website. The navigation bar features options based on genders and categories, with drop-down menus within each section: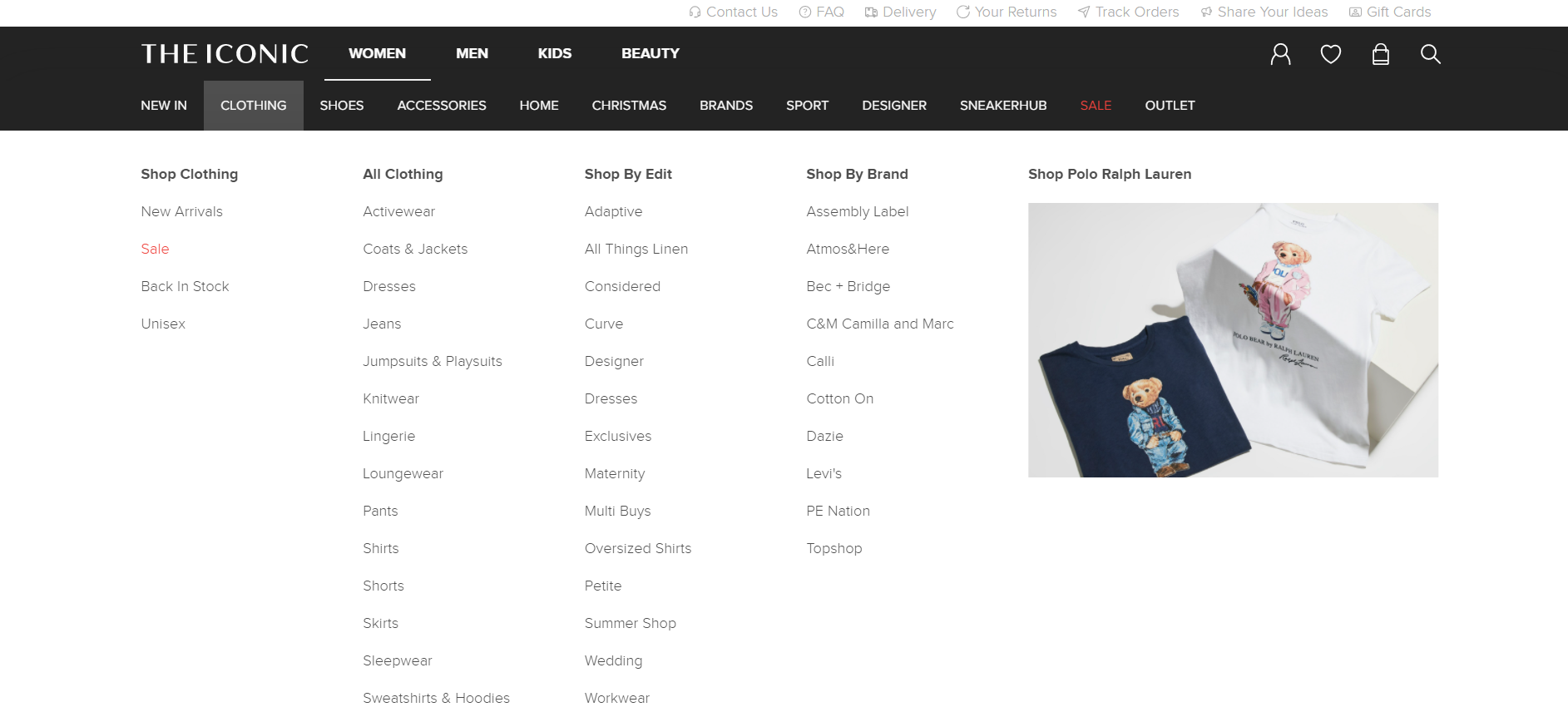 With this type of navigation, visitors can easily find what they're looking for and move one step further down the funnel in their path to conversion.
Make your content easy to read
Nothing is as deterring as a wall of text on a page. Pages with low bounce rates don't just feature compelling content — they feature compelling content in a digestible and skimmable format, like so:
Try these tips to break up your content and make it super easy to read:
Add bucket brigade phrases that stand out and keep people reading

Include lots of white space throughout your content. White space breaks up your copy and makes your website easier to skim

Use short paragraphs (1-2 sentences) to appeal to skim readers

Take advantage of headings and subheadings to break up content

Use a font size that's easy to read on desktop and mobile

Include a mix of images, videos, quotes and text

Create bullet-point or numbered lists

Incorporate different calls to action throughout your page
Focus on search intent
Organic search accounts for roughly 95% of all web traffic. In other words, a big share of your target audience is coming from search engines like Google. If you want them to stay, you need to give them what they were looking for — and that means creating content that satisfies the user's query.
Let's say someone ran a search for the target keywords "cordless drills in Melbourne".
If they read a meta description about cordless tools and clicked on a page, only to be presented with nail guns or cement cutters, they'll quickly hit 'back' and go elsewhere.
Consider search intent with every page on your website. Use this to inform the content on your page to ensure you're giving users exactly what they're looking for when they land there.
Add relevant internal links
Internal linking naturally sends people from one page to another to discover more information. And good news: once they do this, they're no longer counted as a bounce.
The key with internal linking is not to force it. Instead, try to incorporate natural links to content that your visitors might be interested in.
For example, this blog post on holiday sales for eCommerce sites has a link to a blog post on out-of-stock messaging, which is another topic that the reader may want to learn more about:
Another bonus? Internal links are great for SEO. They help spread link juice across your website, which in turn helps Google better crawl and index your individual pages.
Use heatmaps and recordings
Heat maps are a marketer's best friend. They visualise how your visitors are ACTUALLY browsing your website, including which areas draw their attention and which areas they completely ignore.
In this heatmap, for example, we can see that users click on the products, pricing or demo section and completely ignore the resources and company buttons in the navigation bar.
Most conversion rate optimisation (CRO) tools come with a built-in heatmap function, or you can opt for a dedicated tool like Hotjar or Crazy Egg. With this information, you can get to work optimising your specific page content and design based on how users actually behave.
A/B test, then optimise
Decreasing your bounce rate doesn't happen overnight. You need to test various elements to figure out what works, then apply those learnings to the rest of your site.
If you have a hypothesis on a change that will improve your bounce rate, test it on one of your web pages first. This could be something as small as switching up your blog post format to a big overhaul in design and navigation.
After running your test, review your findings and test again on the same page if necessary before implementing those changes onto other pages on your website. This way, you'll know that every update you're making has been proven to decrease bounces.
Reduce your bounce rate and watch the sales soar
Your average bounce rate is a good sign of what's working on your website, and where there's room to grow. With these tips and insights, you'll slash single-page website visits and send your leads and sales through the roof.
And that's just the beginning.
After you've got a slick, engaging, and relevant site, it's time to bring more ready-to-buy customers to your pages to show you the money. To do that, you need SEO. That's where we come in.
Our Gurus develop a laser-focused strategy that's designed to help you dominate search results and get your bottom line booming. Get started for free by claiming your free SEO audit below.
What are you interested in?
SEO only
Adwords only
Social Media only
A combination of the above
Get a Free Audit call to
skyrocket your growth.
30-minute strategy call with a Growth Guru
Free 50+ page audit covering SEO, PPC, Facebook & more
6-month multichannel, evidence-based game plan
"OMG has gone above and beyond to fix our website dramas and the Magician Russell fixed it all. I had a call from Danny at 7pm to explain not to panic and explained everything to me. You guys are far and beyond what any other company has done. WELL DONE TEAM!"
Founder & Managing Director
@ Toast Creative

Get weekly insights for revenue-shifting results
Sign up for all the latest updates from our OMG Academy including news, industry analysis and updates from the OMG team.